Christmas Trivia Quiz III

Questions 11-20

Quiz Question #11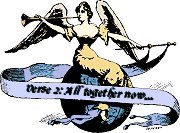 Many of us are quite familiar with the first verses of the traditional Christmas carols,
but how well do you know the rest of the lyrics?
For instance, what is the first line of the second verse of Angels from the Realms of Glory?
---
Quiz Question #12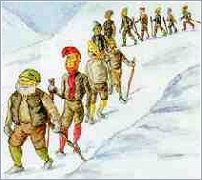 The jólasveinar, or "yule lads", are a traditional part of an Icelandic Christmas.
The jólasveinar are:
---
Quiz Question #13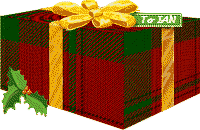 Near Christmas time, Scottish children may sometimes "cry up the lum", meaning that they:
---
Quiz Question #14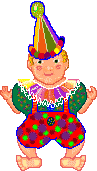 Which Christmas song contains the line "Suzy wants a dolly;
Nellie wants a story book; she thinks dolls are folly"?
---
Quiz Question #15


After Scrooge has reformed his life at the end of Charles Dickens' A Christmas Carol,
he proposes getting together with Bob Cratchit for some "smoking bishop", which was:
---
Quiz Question #16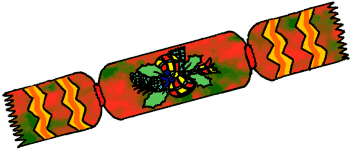 Tom Smith, an English confectioner, invented the Christmas cracker in 1847,
drawing his inspiration from packaged French sweets, or bon-bons.
The original crackers were much like those of today, but the name was different.
Smith called his crackers by the French word for:
---
Quiz Question #17



The popular Christmas song, "Six White Boomers",
tells of Santa Claus making an extra delivery on Christmas Day in a vehicle drawn by six:
---
Quiz Question #18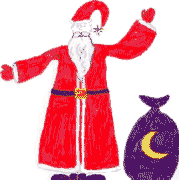 In Lithuania, if Kaledu Senelis, or Grandfather Christmas,
appears to the children on Christmas Eve to hand out presents, each recipient must:
---
Quiz Question #19



Because holly remains green even in the depths of December,
it has been credited with many mysterious powers.
In England, if prickly holly is brought into the house before the smooth-leafed kind,
folklore holds that for the next year:
---
Quiz Question #20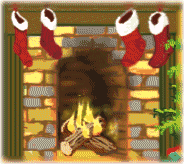 The custom of hanging out stockings or setting out shoes in the hope of receiving Christmas gifts
is said to have begun with:
---
Questions 21-30
Main Quiz Page